Challenger Ian Nepomniachtchi will have the advantage of the first move when the FIDE World Championship begins on November 26th. Champion Magnus Carlsen had the right to choose first – by puncturing one of two large gold balloons at the opening ceremony in the Dubai Opera – and the crisp *pop* revealed a shower of black confetti, awarding the white pieces to the challenger.
This ceremony was one of few words, after a lengthy Q&A session with the press earlier in the day, where the combatants traded subtle digs and respectful compliments, as well as addressing a few complex questions.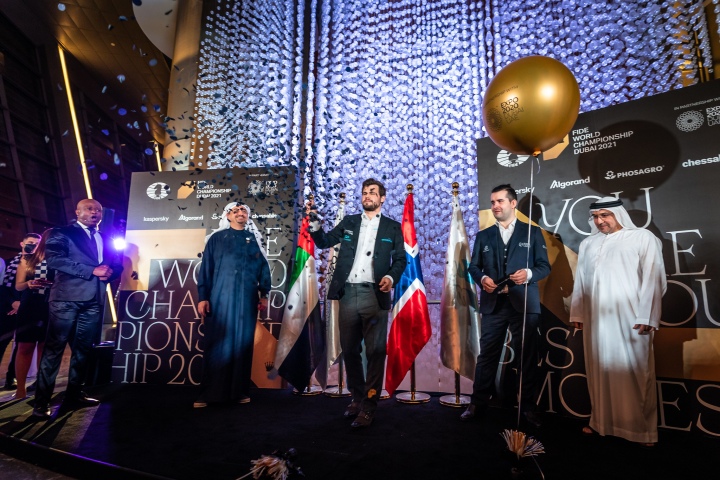 Insights
Both players agreed that even the proliferation of online blitz games flooding their databases could and should be examined in case they provided some inspiration for new ideas to add to their opening arsenal, and both were in total accord about the best advice for aspiring champions.
Ian: "I'll just try to say that you've got to enjoy what you're doing, and you should just enjoy what you do if it's chess or science or sports or basically whatever."
Magnus: "Enjoy what you do! If you're going to excel in a field, I think, at least my philosophy is, that that has to be the main component."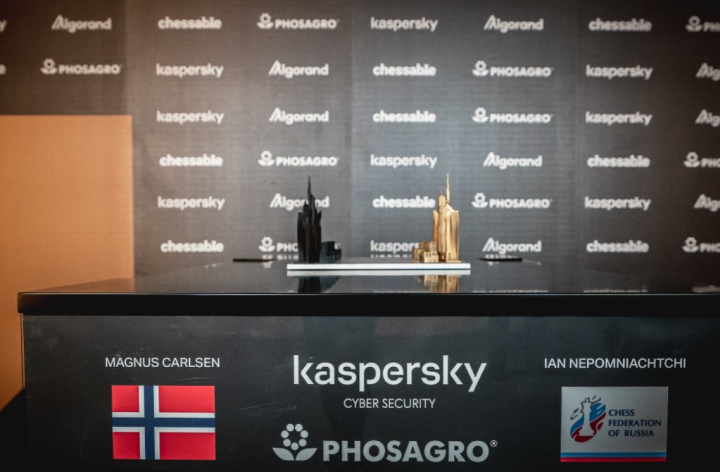 Colours
One question has become more topical now that the draw for colours has been completed, and that is whether the players would prefer to begin the duel with white or black. Nepomniachtchi had joked about this, saying that he would only prefer not to have 14 blacks and that 'hopefully the rules are strict so it will be more or less balanced'.
Magnus was more serious, and confessed that he probably slightly preferred to start with white for psychological reasons but didn't feel it made a significant difference.
In recent 12-game title matches, keeping any possible impacts of colour sequence to a minimum has meant that the alternation was switched mid-way, so that the person starting with white also ended with white, and the other player received two whites in a row in the middle. This year, with a 14-game match and an odd-numbered mid-point, the colours will simply alternate throughout.
Countdown
Today, the final day of rest or preparation before battle, the players or their representatives should be inspecting the venue for those finicky but extremely important details such as the comfort and settings of their chairs, the lighting, noise levels. If not for the historic pioneering complaining of Bobby Fischer, these vital ingredients of optimal concentration would not be part of the pre-match organizational ritual.
And then, preparations should be complete, and the players ready to enter the ring.